The encyclopedia of the Hungry Joker series by Yūki Tabata which started serialization in the Weekly Shōnen Jump magazine since November, 2012 and ended in May, 2013. The Wiki's main task is to progressively collect and archiving all Hungry Joker related materials into exclusive pages. Currently, we have edited over 79 articles as of May, 2013!

Make sure to visit our pages and deepen your knowledge on the scientific story of Hungry Joker!
WARNING! This wiki contains spoilers. Read at your own risk!
Random Quote
"As long as you're afraid of failing and would rather suffer and worry without even trying, there isn't but a single thing you'll understand. If there's something you want to know about, you ought to ascertain yourself! Capture and grasp the truth!" — Heidi, Case 12
Featured Article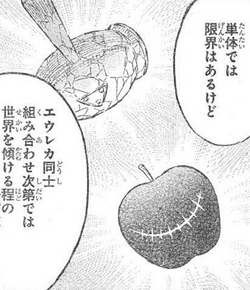 Eureka
Eureka (エウレカ, Eureka) (Greek: εύρηκα, heúrēka; Literally meaning: "I have found") is a term given to a series of supernatural items that each of these items contains explicit knowledge of the human world. These particular items are considered to be beings close to that of a sentient as they are able to choose their own users, people who is known as the Chosen One (選ばれた人間, Eraba Reta Ningen).
The first Eureka that was introduced in the series is called the Newtonian Apple, which bestows its user the knowledge of Isaac Newton's Law of Universal Gravitation and gives them the power to control gravity. During the course of the series, it has been revealed that it could become the perfect Eureka known as the fruit of Genesis, called the Edenic Fruit of Knowledge.
(more...)
Random Chapter
Case 20: The Black Fruit
Again... Spoiler alert! Read at your own risk!
Please do not assume that this is a correct translation until further notice.
---
Heidi manages to recover with the help of Chitose Toriiooji. After easily deflecting the God-class Mavro attack, Liz Attirante reveals that Heidi has evolve into a totally different dimension than the said Mavro. Heidi then easily defeats the Mavro by sending him to oblivion through a compressed black hole.
After defeating the Mavro, from the shadow a member of White Joker has been secretly observing. He then proceeds on reporting to the organization's upper echelon member. The upper echelon member then declares the activation of White Joker's final strategy, code: HUNGRY JOKER.
Read the full summary here.
Finale Picture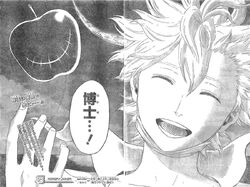 Joking With An Ever-Lasting Hunger
Wiki Affiliates
We are no longer accepting ANY
Affiliation Request.
Recent Wiki News
External Links