The encyclopedia of the Hungry Joker series by Yūki Tabata which started serialization in the Weekly Shōnen Jump magazine since November, 2012 and ended in May, 2013. The Wiki's main task is to progressively collect and archiving all Hungry Joker related materials into exclusive pages. Currently, we have edited over 79 articles as of May, 2013!

Make sure to visit our pages and deepen your knowledge on the scientific story of Hungry Joker!
WARNING! This wiki contains spoilers. Read at your own risk!
Random Quote
"For women I use neurotoxins to stop their movement so they remain just as beautiful. But for everyone else, men, old folks, brats, they all get killed with pain-causing, deadly poisons……!" — Dodomekis, Case 13
Featured Article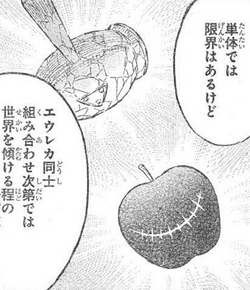 Eureka
Eureka (エウレカ, Eureka) (Greek: εύρηκα, heúrēka; Literally meaning: "I have found") is a term given to a series of supernatural items that each of these items contains explicit knowledge of the human world. These particular items are considered to be beings close to that of a sentient as they are able to choose their own users, people who is known as the Chosen One (選ばれた人間, Eraba Reta Ningen).
The first Eureka that was introduced in the series is called the Newtonian Apple, which bestows its user the knowledge of Isaac Newton's Law of Universal Gravitation and gives them the power to control gravity. During the course of the series, it has been revealed that it could become the perfect Eureka known as the fruit of Genesis, called the Edenic Fruit of Knowledge.
(more...)
Random Chapter
Case 10: The Labyrinth of Mist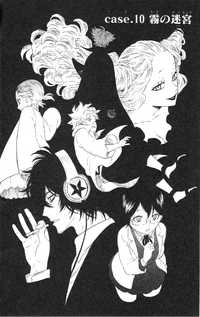 Again... Spoiler alert! Read at your own risk!
Please do not assume that this is a correct translation until further notice.
---
On a plane flying to France, Chitose Toriiooji reads that they'll be heading to a plateau where a mysterious mist covered a great area, creating a labyrinth. In a screen, Mira explains to her and Heidi that investigate it will be their first mission as White Joker, alongside a certain "Steel Woman". Then, she and Alan Blackman contact the White Joker's headquarters to be congratulated by getting the Thalesian Amber, and inform a certain person that Heidi is still a human.
Arriving in their destination, Heidi and Chitose meet Vivian Blanchard, a proudly member of White Joker, that easily gets irritated because of Heidi's behavior. Despite this, they advance on their mission, arriving at the home of an old woman called "Witch" by the townspeople, the main suspect of the cause of the Mist. There they meet her grandson Nils Lees, a depressive young man, that is also brought by Heidi to investigate the mist.
Read the full summary here.
Finale Picture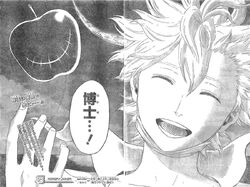 Joking With An Ever-Lasting Hunger
Wiki Affiliates
We are no longer accepting ANY
Affiliation Request.
Recent Wiki News
External Links